Martial Arts Instructor Insurance
Expert Martial Arts Instructor Insurance, Combining Public Liability & Professional Indemnity
#MartialArtsDoneRight Martial Arts Instructor Insurance provides flexible and affordable cover – with both annual and monthly payment options – for instructors from more than 150 styles and disciplines.
Our instructor insurance includes martial arts instructor Public Liability and Professional Indemnity insurance as standard, as well as a number of other key inclusions to ensure you get your Instructor Insurance Sorted.
We're not an insurer and we're not an association, so you can access the sound guidance from our industry experts for all your martial arts insurance questions without worrying about the politics and membership requirements of associations and NGBs.
Our cover is designed to be inclusive, flexible and accessible so you can get on with the teaching you know best.
Flexible & Affordable

All of our martial arts instructor insurance comes with annual or monthly payment options, and is designed to provide affordable, flexible and comprehensive instructor cover.

200+ Styles & Weapons Covered

From Muay Thai, MMA and Krav Maga, through Karate, Jujitsu and Taekwondo; even rare styles like HEMA and Gatkha – it's covered.

You Build Your Own Cover

We won't force you to take on cover you don't need. You select the levels of Public Liability and Professional Indemnity as required, as well as a 'take it or leave it' approach to any optional extras.

Community Impact

We give back to the UK Martial Arts community, investing in the Fighting Chance Foundation's charitable programmes which help change lives here in the UK. We also plant trees to offset your carbon footprint and we fund clean water projects around the world.
AFFORDABLE, TRANSPARENT, FAIR.
Costs & Charges
We're pleased to be able to offer access to one of the UK's most inexpensive options for martial arts instructor insurance, thanks to our group's buying power and our not-for-profit nature.
What Cover Do We Provide?
As standard, for all of our martial arts instructor insurances, we provide;
Instructor Public Liability
Public Liability is considered a core martial arts instructor insurance. Cover is available at £2,000,000, £5,000,000 or £10,000,000.
In a nutshell, it provides cover for your legal liability to pay compensation to third parties for bodily injury and/or damage to property as the result of a negligent act by the Insured arising out of the instruction of martial arts.
Instructor Professional Indemnity
Cover for claims against an instructor based upon professional advice given – for example, specific guidance on how to roll etc, rather than an injury arising from their supervision of a class. This could also include unintentional infringement of intellectual property rights, loss of documents or data in your trust, unintentional defamation, libel or slander, unintentional breach of confidence, confidential duty or misuse of information or bad advice on websites & social media.
£1,000,000 Professional Indemnity (PI) is included free of charge with your cover.
Available as optional extras, such you wish;
Instructor Personal Accident
Personal Accident (PA) insurances provides cover as per the schedule for any injury arising from a specific event whilst participating in a BMABA club, or as a BMABA instructor where there is no negligence responsible.
This might include, for example, physiotherapy costs or loss of income, upto the benefit amount, if you as an instructor are injured whilst teaching a class.
Contents & Equipment Insurance
This provides cover for contents and equipment. This might be crash mats, focus mitts, specialist self defence equipment or it could cover things like the computers and tables in your gym or reception area.
Abuse Extension
Abuse extension is a very specialist type of cover, and it's only available from a very few select insurers. Abuse Extension (AE) provides cover for defence of the named instructor if there is an allegation of abuse made against them. This wouldn't be covered under usual PL or PI, so provided an additional level of support to the instructor.
Activate Your Insurance Now
You can get an instant price above and if you're happy, activate your insurance securely online 24/7.
If you need any help or have any questions, we're here to help.
Frequently Asked Questions & Answers
About Our Martial Arts Insurance
How Soon After Purchasing Can Insurance Go Live?
We provide immediate confirmation of 'on-risk' status (on-risk means the insurance is live). This is because our system allows you to automatically set up membership with #MADR (us) through which the insurance is accessed. Our Group Cover Policy always has allocations ready and waiting, so you can covered immediately.
Can I Teach Online Either Live Or Pre-Recorded With This Insurance?
Yes, and it doesn't cost anything extra.
There are some key conditions that you must be able to meet;
at the commencement of the session, advise participants:

that by participating they are doing so at their own risk;
a suitable, non-slip floor space is required and any potential obstructions in the vicinity are removed before they participate;
to avoid activities if they have, or suspect they may have any current health concerns, injuries, aches and pains;
avoid the use of blades, weapons or sharp instruments of any description;
avoid physical contact with other participants and where appropriate, adhere to social distancing guidelines;

ensure that sessions are conducted for the benefit of existing members/participants/contacts only who have demonstrated sufficient suitability to participate;

continue to only instruct activities in which you are qualified to do so;

record the session. Retaining the recording for a period of up to thirty-six (36) months may assist in any claim made against you;
Do I Have To Provide Proof Of Grade Or Qualifications?
No, you don't. Our Group Cover Policy doesn't require this because we are not a sanctioning body or governing body. Just because we don't check you have the relevant grades or qualifications in place it is really, really important you are completely honest throughout your application and that you are able to demonstrate compliance with all of the policy requirements (see below) to ensure your claim is paid if you need to.
What's The Catch?
We know. Always a little 'too good to be true' when you find comprehensive cover available at competitive pricing. We're a social enterprise, which means we invest all of our profits back into the UK Martial Arts sector through our various organisations. This helps us focus on keeping costs down, as we see #MartialArtsDoneRight as an essential part of our plan in ensuring key provisions are available to everyone.
Who Underwrites The Insurance?
All of our cover is underwritten by XL Catlin via our specialist group cover policy. You can (and definitely should) read the policy wording in full below. Please remember that this document relates to our entire #MartialArtsDoneRight group cover policy which covers many different aspects of cover. Not all of this will be applicable to the cover you take out when you enrol with us, so please check the relevant sections within the policy wording.
Click here to view the insurer's policy wording. 
How Is The Cover Provided & What Is 'Scheme Enrolment' All About?
As you will have read already, we are not an insurer, nor are we an association. In the insurance sector (and indeed the entire finance sector) the industry regulator, the FCA (Financial Conduct Authority) overseas all insurers and insurance intermediaries (brokers and the likes).
We felt that setting up as an appointed representative would restrict our ability to flex and move to the industry's needs so instead we've set up a Group Cover Policy. This works in exactly the same set up to that of many National Governing Bodies (NGBs) and Associations.
We are the policy holder, and allocate cover to 'members' as and when they enrol onto our membership programme. Just to be clear – membership is to the #MartialArtsDoneRight initiative / scheme and is a technicality of how we can effectively offer you access to insurance. It also means we can support you with advice and guidance on a whole-manner of things after your cover and membership go live.
There's no cost to the membership with us; it's inclusive already in any insurance fees payable for the insurer.
Are There Any Requirements To Cover?
Martial arts insurance – like all insurance – comes with certain conditions and requirements. Because we're not an association we won't check you for eligibility – but you must have the following in place for the insurance to be current. If it isn't, you'll likely find your claim is rejected. The requirements are basic industry standards, and we can help you with the provisions if you don't have everything in place.
If you're teaching children or adults at risk, you'll need to hold an enhanced DBS check dated within the last 3 years.
You'll need to be able to proof first aid training / certification to a suitable level.
You'll need to hold a Black belt (1st Dan) or equivalent (where practicing ungraded styles, like MMA or Muay Thai) and you'll need to be able to demonstrate this in the event of a claim.
You will need to conduct a risk assessment for all of your classes before teaching.
If you have a criminal record or have been declared bankrupt, we can provide cover but you must contact us first. This is just a standard insurance clause which we can overcome on a case by case basis.
You must ensure that suitable safety equipment is used at all times during lessons, classes and events and a fire risk assessment must be conducted on all premises used for lessons/events and fire evacuation procedures made clear. There must always be a qualified, DBS checked (where required), first aid trained instructor in the club at all times.
You'll need to meet everything in the policy wording (see the box to the left) per the standard insurer wording.
You must not have been declared bankrupt or had any other county court judgements (CCJs) or insolvencies to your name.
Quote & Buy Online
You can get an instant price and, if you're happy, activate your insurance securely online.
If you need any help or have any questions, we're here to help.
Styles & Weapons We Can Cover
Aiki JuJitsu
Aikido
Aiuchi Ju Jitsu
Aiwakai Karate Do
Ashihara Karate
American Kempo
Angampora
Arnis
Atemi
Ba Ji Quan and Tai Chi
Baguazhang
Bajiquan
Bajutsu
Bando
Bartitsu
Bataireacht (Irish Stick Fighting)
Bojitsu
Bojuka
Bojutsu
Bokator
Bokh (Mongolian Wrestling)
Brazilian Ju Jitsu (BJJ)
British Combat Judo
British Folkstyle Wrestling
Budokon
Bujinkan Budo
Bujinkan Budo Tai Jutsu
Bujutsu
Bushi Kempo
Bushido
Butthan
Canne de Combat
Capoeira
Catch Wrestling
Ch`uan Fa
Ch`uan Shu
Chambarra
Cheibi Gad-Ga
Chi Gong
Chinese Kickboxing
Choy Li Fut
Choi Kwang Do
Close Protection Training
Close Quarter Combat (CQB)
Combat Hapkido
Combat Hopak
Combat Sambo
Conflict Management
Coreeda
Cuong Nhu
Dacayana Eskrima
Daido Juku Kudo
Daito-ryu
Daito-ryu Aiki Jujitsu
Dambe
Danzan Ryu
Drunken Fist (Zui Quan)
Dumog
Eagle Claw Kung Fu
Enshin Kaikan
Escrima
Fencing
Feng Shou
Filipino Martial Arts
Fitness Orientated Kickboxing
Folkstyle Wrestling
Freestyle Jujitsu
Freestyle Karate
Freestyle Karate Jutsu
Freestyle Kung Fu
Freestyle Kickboxing
Freestyle Taekwondo
Fu Jow Pai
Gatka
Glima
Goju Kai Karate Do
Goju Ryu Karate
Gongkwon Yusul
Goshin Jutsu
Goshin Ryu Kempo Jujitsu
Haidong Gumdo
Hakuda
Han Mu Do
Hanbojutsu
Hapkido
Historical European Martial Arts (HEMA)
Historical Fencing
Hojojitsu
Hsing-i
Hsing-yi
Hung Ga
Huyen Langlon
Hwa Rang Do
Hwarang-do
Iaido
Iaijutsu
Icho-Ryu
Iinkai Judo
Isshin-Ryu Karate
Itto-Ryu
Jado Kuin Do
Japanese Shotokan Karate
Jeet Kune Do
Jikiden Eishin Ryu Iaido
Jojutsu
Judo
Jujitsu
Jun Fan Gung Fu
Jun Fan Jeet Kune Do
Jutsu
Kaiai Jitsu
Kajukenbo
Kalaripayattu
Kali
Kali Silat
KAPAP
Karate
Karate Jutsu
Karate-Do
Karate-Jitsu
Kaze Arashi Ryu
Kempo
Kempo Jujitsu
Kempo Ryu
Ken Fat
Kendo
Kenjutsu
Kenpo
Kenshin Karate
Keysi
Ki Aikido
Kick Boxing
Ko Budo
Kobudo
Kokondo
Korean Kickboxing
Koryu Uchinadi
Krabi-Krabong
Krav Maga
Kuk Sool Won
Kumdo
Kung Fu
Kung Fu To'a
Kyokushinkai Karate
Kyudo
Lathi Khela
Lau Gar
Lau Gar Kickboxing
Lau Gar Kung Fu
Lee Style Tai Chi
Leopard Kung Fu (Bao Quan)
Lerdrit
Maarlisk
Malla Yuddha
Marine Corps Martial Arts Program (MCMAP)
Martial Arts Based Fitness
Martial Arts Wrestling
Military Martial Arts
Mixed Martial Arts (MMA)
Monkey Kung Fu (Hou Quan)
Muay Boran
Muay Thai
Nearu Martial Art
Nihon Goshin Ju Jitsu
Ninjitsu
Ninpo Taijutsu
Ninjutsu
Niten Ichi-Ryu
North West Chinese Kickboxing
Okichitaw
Pa Kua
Pa Qua
Panantukan
Pankration
Personal Protection
Physical Intervention
Pradal Serey
Qi Kwan Do
Qwan Ki Do
Quan Fa
Reality Based Martial Arts
Russian Martial Arts
Sanjuro Martial Arts
Sankukai Karate
Sanshou
Sarak
Sarit
Savate
Seiki Juku Karate
Self Defence
Self Protection
Shaolin Kempo Karate
Shaolin Kung Fu
Shaolin-Tsu Kempo
Shintaido
Shito-Ryu Karate
Shindo Jinen Ryu
Shorinji Kempo
Shorin-Ryu Karate
Shotokan Goju Ryu
Shotokan Karate
Shuai Chiao
Shuai Jiao
Shukokai
Shukokai Karate
Shuri-Ryu
Sibpalki
Sikaran
Silambam
Silat
Sokudo
Soo Bahk Do
Sport Boxing (Martial Arts Based)
Sport Karate
Sport Sambo
Ssireum
Submission Wrestling
Sumai
Sumo
Sulkido
Systema
Taekkyeon
Taekwondo
Tai Chi
Tai Chi Chuan
Tai Jutsu
Taido
Taijutsu
Tang Soo Do
Thai Boxing
Thang-ta
Tiger Claw Kung Fu (Fu Jow Pai)
Tora Kai
Traditional Aikido
Traditional Italian Martial Arts
Traditional Karate
Traditional Wado Ryu
Unarmed Combat
Viet Vo Dao
Wado Ryu Karate
Wing Chun
Wing Chun Kung Fu
Wing Tsun
World Tang Soo Do
Wushu
Yoseikan Budo
Zen Shin Karate
3 Section Staff
6″ Staff
Bamboo Sword
Baton
Blunted Metal Sabre
Bo
Bo Staff
Bokken
Bow & Arrow**
Broadsword (Blunted)
Broadsword (Wooden)
Butterfly Knives (No Live Blades)
Cane
Chain
Chain Whip
Clubs
Clubs (Wooden)
Cosh (Blunted Blade Only)
Dagger (Blunted Blade Only)
Dan Bong (Short Sticks)
Dummy Weapons
Escrima
Escrima Sticks
Fan
Foam Batons
Foam Weapons
Focus Mitts
Guns (Plastic)
Habo Staffs
Hanbo
Iaito (Practice Only)
Janbo
Jo
Jo Staff
Jutte/Jitte
Kali Sticks
Kama (Blunted Blade Only)
Katana (Blunted Blade Only)
Kendo Shinai
Kenpo Sticks
Knives (Blunted Metal)
Knives (Plastic)
Knives (Rubber)
Knives (Wooden)
Kubotan
Kunai (Blunted Blade Only)
Leather Whip
Naginta (Blunted Blade)
Nawa
Nunchaku
Padded Sticks
Padded Weapons
Plastic Bottle
Plastic Weapons (No Live Blades)
Pole
Practice Sword (No Live Blades)
Qiang
Rice Flail
Rokushaku Bo (Japanese Staff)
Rope
Rubber Sticks
Rubber Weapons
Safety Weapons
Sai
Shaolin Staff
Shields
Shinai (Blunted Blade Only)
Shoriken
Shuko (Demonstration Only)
Spear
Staff
Sticks
Swords (Blunted Metal)
Swords (Plastic)
Swords (Rubber)
Swords (Wooden)
Tai Chi Sword (Blunted Blade Only)
Tambo
Tanto
Tessen
Tiger Fork
Togakure Bokken
Tonfa
Training Knife (No Live Blades)
Training Swords (No Live Blades)
Training Weapons (No Live Blades)
Wing Chun Pole
Wooden Shou
Wooden Weapons (No Live Blades)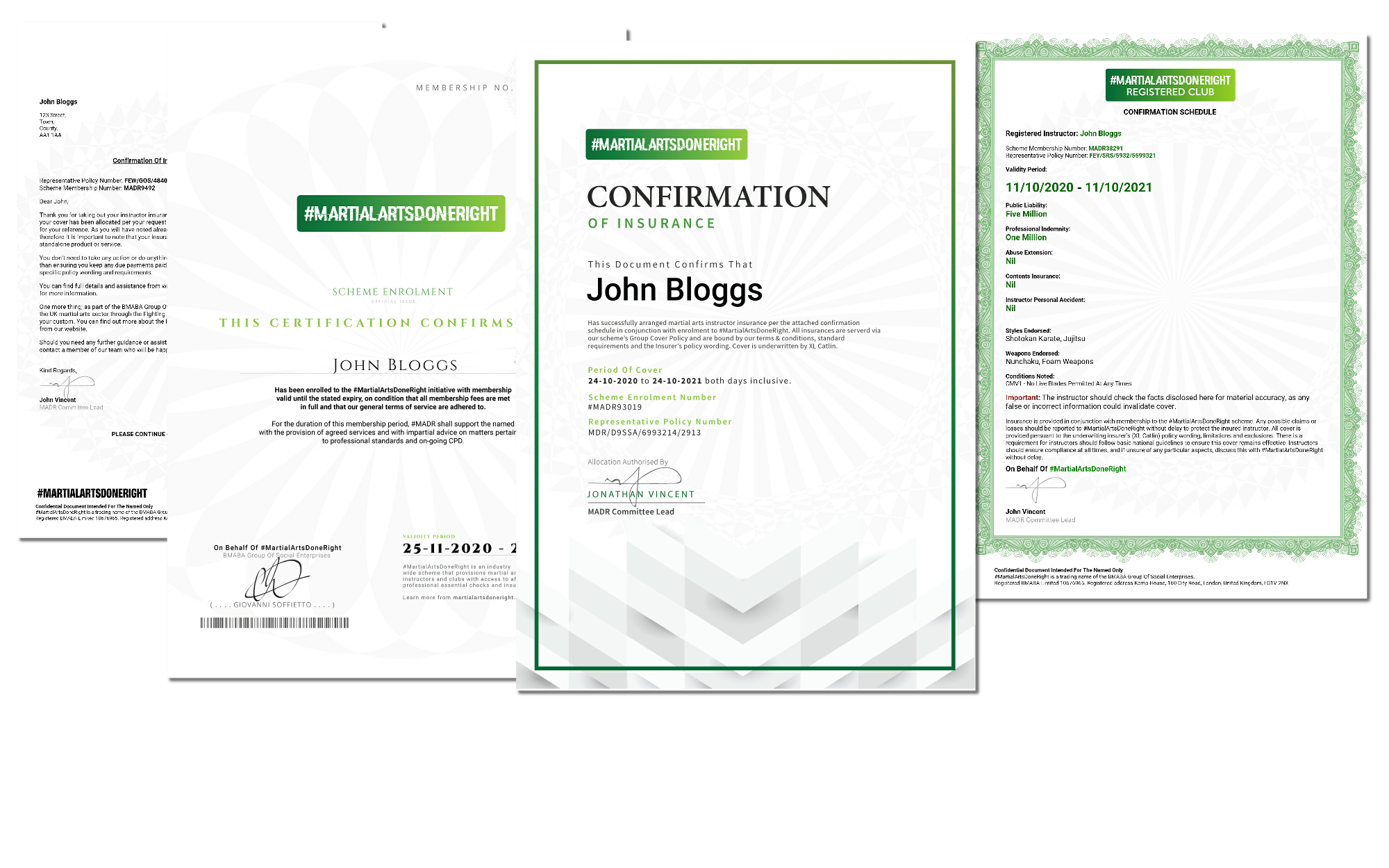 Beautiful, Clear PDF Certification To Help You Satisfy Venues & Local Authorities
We know it's important to not only have the right cover in place, but also to ensure it's clear to third parties too. Every #MartialArtsDoneRight policy comes with a scheme enrolment certificate to confirm your membership to the #MADR scheme through which the insurance is provided, along with a certificate of insurance confirmation, an inception letter and a full schedule of cover.
All documentation is available for PDF viewing, download or sharing as standard.
Quote & Buy Online
You can get an instant price and, if you're happy, activate your insurance securely online.
If you need any help or have any questions, we're here to help.
Need A Little Help?
We know insurance is never an easy one to conquer – that's why we set up the #MartialArtsDoneRight scheme in the first place.
We're here to help with any questions around suitability, pricing, logistics or anything else. We can help you move away from an existing provider and we can provide bespoke pricing and set up for clubs with more complex needs. All advice is impartial and confidential.